Brand:
| | | |
| --- | --- | --- |
| Availability: | | Out Of Stock |
| Buy for points: | | 31500 |
Notify me of availability
Specification:
Strength
Mass
Endurance
Regeneration
Pre-workout NO Volumizer!
Extreme Pumps and Energy Support!
If you are looking for a pre-workout shake that will help power you up for the gym and make you feel like hitting the plates, wait no longer. The nitric oxide (NO) activators, creatine and stimulants in this formula will energize you while helping to make you look more vascular and gain size. Shock Therapy can actually motivate you to get into the gym and hit the weights! Unlike many of the other pre-workout NO products on the market, we include an antioxidant complex that is essential when taking nitric oxide stimulating ingredients, due to their oxidative nature on human cells. Now you can have the "perpetual pump," the intense workout you crave, and keep your body safe from the free radicals that are produced as a side effect of the nitric oxide activation process.
Why should you choose Universal Nutritio's Shock Therapy?
It Works:
If you want to get energized and motivated in the gym, Shock Therapy is for you. This formula will make for some very intense workouts that will help you put up more weight and will ultimately result in mass gains. Your body will feel pumped all day from the blood rushing to your muscle tissue delivering needed nutrients for real growth. We don't use any sugar so there is no worry about fat gains. We use the best ingredients, from creatine all the way to our antioxidant blend. You won't find another product like Shock Therapy; it is truly unique amongst pre-workout energizers and cell volumizers.

It Has a Healthier Formula:
Since Shock Therapy helps your body produce more nitric oxide, you need an anti-oxidant complex to scavenge the harmful free radicals that are released as a result of the nitric oxide process. Our competitors aren't keeping your health in mind; we are.

It Has A Better Formula:
Shock Therapy uses R-ALA to help shuttle the creatine and nitric oxide stimulating components into circulation, whereas the competition either does not use any form of alpha lipoic acid or uses the standard ALA, which has been shown to be less effective than R-ALA. Many individuals do not like to ingest aspartame and prefer sweeteners such as sucralose. Shock Therapy does not use any aspartame, while some of the other popular products do.
Product name:
Shock Therapy
Container size:
200 g
Serving size:
20 g
Servings per container:
10
Supplement facts:
per portion (20 g)
amount
%DV
Niacin
10 mg
50%
Vitamin B6 (As Pyridoxine HCL)
10 mg
500%
Vitamin B12 (As Cyanocobalamin, Methylcobalamin)
10 mcg
167%
Calcium (As Carbonate)
25 mg
3%
Magnesium (As Magnesium Oxide)
25 mg
6%
Sodium (As Sodium Bicarbonate, Trisodium Phosphate)
120 mg
5%
Potassium (As Potassium Phosphate)
60 mg
2%
NO Super Pump Volumizing Complex:
Creatine Monohydrate, Creatine MagnaPower®, Arginine HCL, Arginine AKG, ArginoCarn® (Acetyl-L-Carnitine Arginate Dichloride), Citrulline Malate, GlycoCarn® (Glycine Propionyl L-Carnitine HCL), Pine Bark Extract (Pycogenol), Glucuronolactone
5000 mg
*
Muscle Strength Blend:
BCAA Complex (L-Leucine, L-Valine, L-Isoleucine), L-Taurine, CarnoSyn® Beta-Alanine, Sustamine™ (L-Alanyl-L-Glutamine), Acetyl L-Carnitine
5500 mg
*
Enertropic & Antioxidant Complex:
L-Tyrosine, Choline Bitartrate, Caffeine Anhydrous, Guarana Seed, Yerba Mate (Leaf), Kola Nut Powder (Seed), Green Tea Extract (Polyphenols, EGCG), Grapeseed Extract (OPC), L-Cysteine HCL, Na-R-Alpha Lipoic Acid (Na-R-ALA), NAD (Nicotinamide Adenine Dinucleotide)
1200 mg
*
Electrolyte & Delivery Complex:
Shock Therapy® Carb Blend (Glucose Polymers, D-Glucose, Trehalose), Sodium Bicarbonate, Potassium Phosphate, Trisodium Phosphate, Calcium Carbonate, Magnesium Oxide
5265 mg
*
As a dietary suppliment, add 1 scoop of SHOCK THERAPY to 8-10 oz. of cold liquid. Take one serving 30 minutes pre-workout. You can also use SHOCK THERAPY in combination with STORM. Take 1 scoop of STORM 15-20 minutes post-workout. Before beginning any program, consult your health care practitioner.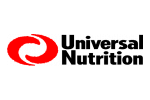 Universal is a well known among bodybuilders manufacturer of nutritional supplements and diet supplements. The company offers a wide range of amino-acid supplements, vitamin and mineral supplements complexes, energy bars, protein supplements, gainers, recovery supplements and supplements supporting fat burning and muscle building.