Shipping from £ 3.92 in 24h!
Brand:
| | | |
| --- | --- | --- |
| Availability: | | In Stock |
| Buy for points: | | 34300 |
Fashionable gadget in the environment of people practicing sport professionally.
Ergonomic, handy shape, large capacity (1 gallon).
Good workmanship, good material.
A canister by 5% Rich Piana is made of a good quality material with a capacity of almost 4 liters (one gallon) for fluids used by people who exercise and take care of watering, as well as of nourishing the body. Its ergonomic design and low weight, make it a functional and handy gadget. You can take it with you to the gym, on a walk or to work.
Discrete logo of 5% Nutrition placed on it and the distinctive green company cap are small parts of the product distinguishing it among other similar. It is worth to consider purchasing this canister - it will surely bring you great satisfaction and distinguish you from other people who give fluids using accidental containers.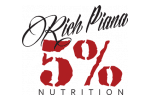 Ask yourself a question, what percent of the people is really doing everything to make their dreams come truth? And here is the place for company Nutrition 5%. It is possible, that among your friends, there is 95% of people, who start something and never finish. The goal was too difficult or impossible to achieve. But for the remaining 5% of people, that is not an obstacle. This applies to all areas of life, such as finance and business, the pursuit of happiness and freedom, family, sports, lifestyle, education and personal development. This is not an easy road and therefore only 5% of people are choosing to take up the challenge. 5% Nutrition is a company selling pre-workout supplements, diet supplements and sportswear. With its products, they enable you to be among these 5 percent of the exceptional people who achieve their goals and fulfill their dreams.