Shipping from £ 3.92 in 24h!
Brand:
| | | |
| --- | --- | --- |
| Availability: | | In Stock |
| Buy for points: | | 69300 |
Rich Piana 5% Nutrition Cyclone Cup brings the revolutionary design of a cyclone cup together with the hardcore mentality of the 5% lifestyle.
Efficient Cyclone™ mixing technology to shake up the toughest ingredients.
Holds up to 20 oz of liquid in a leak-proof compartment.
Easy to read ounce and millimeter markings.
Removable 6 oz dry storage capsule for easy store-and-go.
100% BPA/DEHP-FREE, made from non-toxic and fully recyclable materials.
Secure-Lock Cap™ & Screw-Tight Lid™ ensures no leaking.
Top-shelf dishwasher safe.
Fits in most cup holders; from in the car, to at the gym.
Easy clean design that won't stink-up from your supplement powders.
Available in a variety of your favorite colors!
The Cyclone Cup® is proven to mix better than today's leading shaker bottle, thanks to a revolutionary patented Cyclone™ mixing technology that blasts through and mixes up the toughest ingredients with ease. Add your favorite Pre-Workouts, Protein Supplements, or Meal Replacements and let the Cyclone Cup do the rest!
The Cyclone Cup is also a great tool for in the kitchen. Easily prepare omelets, pancake mix, marinades, salad dressings, and much more!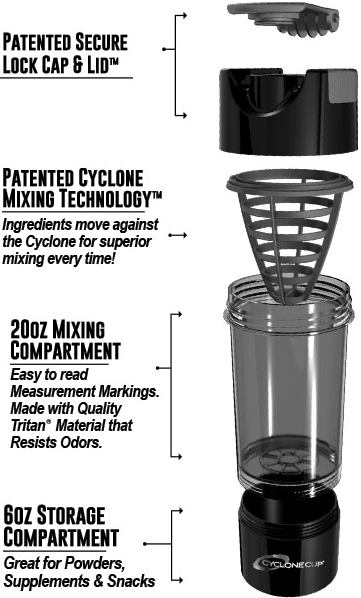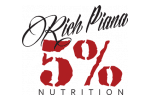 Ask yourself a question, what percent of the people is really doing everything to make their dreams come truth? And here is the place for company Nutrition 5%. It is possible, that among your friends, there is 95% of people, who start something and never finish. The goal was too difficult or impossible to achieve. But for the remaining 5% of people, that is not an obstacle. This applies to all areas of life, such as finance and business, the pursuit of happiness and freedom, family, sports, lifestyle, education and personal development. This is not an easy road and therefore only 5% of people are choosing to take up the challenge. 5% Nutrition is a company selling pre-workout supplements, diet supplements and sportswear. With its products, they enable you to be among these 5 percent of the exceptional people who achieve their goals and fulfill their dreams.