Brand:
| | | |
| --- | --- | --- |
| Availability: | | Out Of Stock |
| Buy for points: | | 132300 |
Notify me of availability
Specification:
Strength
Mass
Endurance
Concentration
Increases muscular strength and power output
Enhances nitric oxide synthesis
Improves mental focus for extreme workout intensity
Increases carnosine levels to fight muscular fatigue and increase aerobic endurance
URX Bombshell is the latest cutting edge pre-workout made with pharmaceutical grade ingredients for maximum potency. Experience increases in muscular strength and endurance as well as improved mental focus. Bombshell uses a revolutionary delivery system designed to shuttle the nutrients into the the blood stream fast for a quick burst of energy that you will feel shortly after taking your first dose.
Product name:
Bombshell
Container size:
270 g
Serving size:
9 g (one scoop)
Servings per container:
30
Supplement facts:
per portion (9 g)
amount
%DV
Proprietary Bomb Shell Blend:
Beta Alanine, 1,3-Dimethylamylamine, Caffeine Anhydrous, Alpha Yohimbine, Methyl Synephrine, Guarana
3000 mg
-
Pump Matrix Blend:
Agmatine Sulfate, L-Arginine
3000 mg
-
Mix 1 serving (one scoop) with 4-8 ounces of cold water and consume 30-45 minutes before training. Individuals sensitive to caffeine should begin with half the recommended dosage to assess individual tolerance. Do not take more than 2 scoops in a 24 hour period.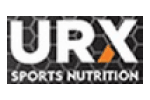 URX is a respected producer of the strongest pre-workout supplement on the market by far, which is a Bombshell. It contains only the active ingredients in large doses, and is intended for those for whom everything used so far is not enough.