Shipping from £ 3.92 in 24h!
Brand:
Availability:
UK Stock
Buy for points:
90300
Specification:
Strength
Mass
Endurance
Concentration
To live the 5% lifestyle you must have the 5%
MENTALITY
. This groundbreaking product has been meticulously constructed for gamers, business professionals, students, athletes, and ANYONE else looking for an enduring and superior mental edge. The 
MENTALITY
Energy Blend was designed with the special emphasis of giving you LASTING ENERGY, because your day is not a sprint, it's a marathon.
MENTALITY
escorts your mind into a high realm of focus and cognitive networking. Become ushered into a new chapter of mental power and function with a physical energy that is slow to die with 
MENTALITY
.
Mind Over Matter Mental Power Blend
This blend contains an overflowing collaboration of potent "brain feeders" that directly encourage greater memory retention, streamlined focus, and mental energy and stamina while defeating mental fatigue and exhaustion. MENTALITY creates mental superiority to help you tackle your day at a high level of performance.
PsychoStim Adder-All-In Energy Burst
MENTALITY uses several forms of caffeine to give you a dynamic and multi-faceted spark in energy that meets your physical and mental needs: both immediate, the interim period, and long term for many hours. Without the harsh crash. The last thing you need is short-fused energy right during critical times of your day only to abandon you with a tough to face crash. To compliment this blend, Mentality also contains a high dose of B-12 for extra added natural energy.
Lucid Focus Neurotransmission Blend
These cognitive triggers keep your brain on high alert and attentiveness to dissect even the most complex of scenarios. They are the match that set off and ignite a series of mental performance fireworks. Increase your attention span and focus on the task at hand with this intense blend of very effective ingredients.
Cerebral Shock Cognitive Igniter Blend
Whether it is a night out on town, a night of gaming, a night of studying, or a full day of meetings, this blend is the finishing touch aimed to DIRECTLY ignite your system. These sought after ingredients take you to where you need to be and keep you there.
Product name:
Mentality
Container size:
90 capsules
Serving size:
3 capsules
Servings per container:
30
Supplement facts:
per portion (3 capsules)
amount
%DV
Vitamin B6
12 mg
600%
Vitamin B12
600 mcg
10,000%
Mind Over Matter Mental Power Blend:
N-Acetyl L-Tyrosine, Panax Ginseng Extract, Rhodiola Extract, L-Phenylalanine, White Willow Extract, Alpha Lipoic Acid, Acetyl L-Carnitine Hydrochloride, L-Carnitine L-Tartrate, Gotu Kolu Extract, Ginkgo Biloba Extract, Glycine Propionyl L-Carnitine Hydrochloride, Pterostilbene, Sulbutiamine, L-Theanine, Huperzine A 1%
1000 mg
-
PsychoStim Adder-All-In Energy Burst:
Green Tea (50% Caffeine) (Leaf), Dicaffeine Malate, Caffeine Anhydrous, Guarana Extract (Seed), Yerba Mate Extract (Leaf), Theobromine
500 mg
-
Lucid Focus Neurotransmission Blend:
Alpha-Glycerylphosphorylcholine (Alpha-GPC), Choline Bitartrate, DMAE DL-Bitartrate, Citicoline Sodium
300 mg
-
Cerebral Shock Cognitive Igniter Blend:
N-Methyl Tyramine Hydrochloride, Higenamine Hydrochloride, Vinpocetine
45 mg
-
Take 3 capsules in the morning with food. A second serving may be taken later in the day if needed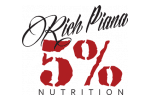 Ask yourself a question, what percent of the people is really doing everything to make their dreams come truth? And here is the place for company Nutrition 5%. It is possible, that among your friends, there is 95% of people, who start something and never finish. The goal was too difficult or impossible to achieve. But for the remaining 5% of people, that is not an obstacle. This applies to all areas of life, such as finance and business, the pursuit of happiness and freedom, family, sports, lifestyle, education and personal development. This is not an easy road and therefore only 5% of people are choosing to take up the challenge. 5% Nutrition is a company selling pre-workout supplements, diet supplements and sportswear. With its products, they enable you to be among these 5 percent of the exceptional people who achieve their goals and fulfill their dreams.