Shipping from £ 3.50 in 24h!
Brand:
| | | |
| --- | --- | --- |
| Availability: | | In Stock |
| Buy for points: | | 4550 |
Gives a proper taste, aroma and smell
An alternative for mall products
Contains no harmful additives
A completely natural method of production
A meat spice by Soncone is a completely natural blend of aromatic components giving a dish an appropriate flavor, aroma and flavor. The product includes both naturally dried vegetables (sweet pepper, onion, parsley, parsnip), aromatic herbs (marjoram, savory, lovage, thyme, rosemary) and other organic spices (black pepper, white pepper).
It is a healthy alternative to products available at the mall, being full of harmful ingredients such as dyes, flavor enhancers (sodium glutamate), hardened vegetable fats, cooking salt, preservatives.
Soncone
spice composition is completely free from the above list of harmful chemicals, and contains only ingredients beneficial to health, while enriching meat dishes of unique taste sensations.
Ingredients: sweet peppers, onion, parsnip, marjoram, savory, lovage, thyme, rosemary, black pepper, white pepper, parsley.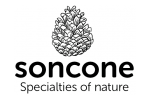 Soncone is a Polish manufacturer and distributor of high quality food and personal care products. The company was founded with the passion of the young people into conscious, healthy eating, and the desire to share their findings and experiences with others eager to enjoy a long healthy life.
The company's offer is formed primarily of natural substitution products, so healthy replacements for so harmful everyday food, such as oil, lard or butter.
Due to the sensitivity of a Soncone team on the point of safety and transparency, all of the ingredients used in the production are thoroughly tested and presented on the labels.