Brand:
| | | |
| --- | --- | --- |
| Availability: | | Out Of Stock |
| Buy for points: | | 83300 |
Notify me of availability
Specification:
Strength
Endurance
Health
Regeneration
The FLEX FREAK® Advantage
FLEX FREAK® PACKS are engineered to provide your body with one of the highest-quality and most complete joint support formulas available! The ingredients in FLEX FREAK® are designed to support overall normal joint health and to help your body perform at its best!
FLEX FREAK® DELIVERS 6 UNIQUE INGREDIENT COMPLEXES:
VITAMIN & MINERAL
CARTILAGE SUPPORT
FUNCTION SUPPORT
COMFORT SUPPORT
LUBRICATION SUPPORT

MULTI-VITAMIN MINERAL COMPLEX
Contains 8 important vitamins and minerals.
Delivers 100% of the Recommended Daily Intake (RDI) of vitamin E, zinc and manganese.
Delivers 100% RDI of vitamin C.
GLUCOSAMINE COMPLEX
Glucosamine sulfate is a naturally occurring chemical found in joints.
Research shows that taking 1,500 mg of glucosamine sulfate daily increases the cartilage and fluid surrounding joints and helps prevent breakdown of these substances.
Researchers also believe the "sulfate" part of glucosamine sulfate is important as sulfate is needed by the body to produce cartilage.
CARTILAGE SUPPORT COMPLEX
New, cutting-edge 2011 research conducted in Switzerland and published in the highly respected journal of BMC Complementary & Alternative Medicine shows that Rose Hip contains a newly discovered compound called galactolipids, which can switch OFF the genes that produce proteins and enzymes responsible for inflammatory joint destruction.
On top of that, galactolipids can also switch ON the genes that help produce joint collagen and cartilage!
FUNCTION SUPPORT COMPLEX
Boswellia serrata is well known for its anti-inflammatory properties.
Research studies show that taking 100 mg of boswellia serrata daily can help decrease joint pain.
Researchers believe that boswellia exerts its beneficial effects by controlling inflammatory responses through reducing pro-inflammatory modulators, and by reducing the enzymatic degradation of cartilage in joints.
COMFORT SUPPORT ANTI-INFLAMMATORY COMPLEX
Ginger and Tumeric has long been used in traditional medicine for anti-inflammatory support.
LUBRICATION SUPPORT COMPLEX
Hyaluronic acid occurs naturally in the synovial fluid that surrounds joints.
Product name:
Flex Freak
Container size:
30 sachets
Serving size:
1 sachet
Servings per container:
30
Supplement facts:
per 1 sachet
amount
%DV
FLEX FREAK™ VITAMIN & MINERAL COMPLEX:
Vitamin C (as ascorbic acid)
100 mg
167%
Vitamin D (as cholecalciferol)
100 IU
25%
Vitamin E (as d-alpha tocopherol)
30 IU
100%
Calcium (as calcium carbonate)
250 mg
25%
Magnesium (as magnesium citrate)
50 mg
12.5%
Zinc (as zinc acetate)
15 mg
100%
Selenium (as sodium selenite)
50 mcg
71%
Manganese (as manganese sulphate)
2 mg
100%
FLEX FREAK™ GLUCOSAMINE COMPLEX:
Glucosamine (as Sulfate)
1500 mg
*
FLEX FREAK™ CARTILAGE SUPPORT COMPLEX:
Rosehip (Rosa canina) 4:1 Extract
500 mg
*
FLEX FREAK™ FUNCTION SUPPORT COMPLEX:
Boswellia serrata extract Supplying Boswellic Acids
100 mg
*
FLEX FREAK™ COMFORT SUPPORT COMPLEX:
Ginger (Zingiber officinale) (rhizome), Devil's Claw (Harpagophytum procumbens), Turmeric (Curcuma longa L)
100 mg
FLEX FREAK™ LUBRICATION SUPPORT COMPLEX:
Hyaluronic Acid
10 mg
*
As a dietary supplement, take 1 pack daily to support normal joint health.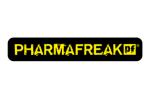 PHARMA FREAK is producing sports supplements. The wide offer includes products like supplements with high-quality creatine and supplements that increase testosterone production. The product range are also include high efficiency fat burners, and gainers, which are considered as one of the most efficient on the market.